Win:
1. $25 in gift credit to Pixel Berry Pie Designs for web & graphic design services. Choose from custom-designed Facebook timeline covers, Etsy banner packages, blog design, business card design, and more!


2. 5 months of free ad space on Letters from a Mermaid blog
3. 5 months of free ad space on Pixel Berry Pie Designs blog
4. Huge jewelry package, including necklace charms, one-of-a-kind green coiled glass bracelet, multi-tiered green and blue beaded bracelet, green swirl earrings and yellow tear drop earrings - Pictured below. (Thanks goes to Rachael for the jewelry!)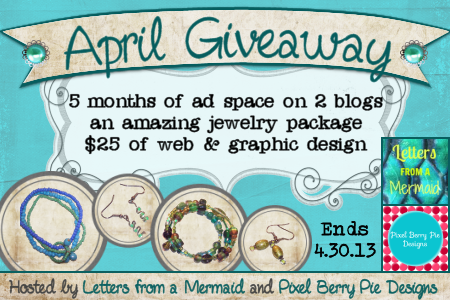 Pixel Berry Pie Designs: SPECIAL GIVEAWAY! ad space, graphic design, & jewe...
: